we scare because we care
(april 7, 2002)
listening: the captain kasey chambers, not pretty enough kasey chambers, better be home soon kasey chambers. i am SO country. hehe.
reading: the complete poems anne sexton
Let me introduce you to my new bedmate.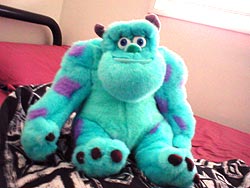 how adorably blue am I?
He's finally mine!!! Hehe. Well the purchase was sort of accidental (as all my ridiculous, impulsive purchases are). We (me and my housemates, not me and Mr. Blue Monster) were actually looking for a birthday gift for a friend, we were also kinda late (as most birthday purchases are) so we went to the nearby Disney shop. I was staunchly sure that I wasn't going to buy anything that day, given the deteriorating condition of my wallet. Also because I rarely buy anything from Disney shop (who really needs a poseable Woody, or ten million different Pooh plush toys dressed as tropical fruits? Although they are kinda cute. But emphasis on the word 'needs'.).
I saw him longingly piled in a huge pile of other soft toys. My willpower has been gone for a long time, along with my conscience and dignity. I simply had no other choice. This is a one-in-a-million find!!! (There were at least 15 James P. Sullivan in that pile, but whatever.) I remember when I went shopping with Fairy back in Malaysia we couldn't find any plush Sullivan toys. They were all plastic and hard, which is not very nice to sleep with because it might poke you in the eye when you are sleeping and you'll wake up blind. (Imagine. Wake up blind. You open your eyes first thing in the morning and suddenly realize you have lost your sight. Can you think of anything more scary?)
Okay. Enough about my love life.
I have a new displacement therapy each time I'm too depressed to do work or simply refuse to do them. I take photos in my room.
You can see how much work I actually have to do based on this, I guess.