reverse voyeurism
(march 21, 2002)
listening: hijab kekasih m. nasir, please send me someone to love fiona apple
about to read: cleo's 50 most eligible bachelors
Psst.
Wanna see my cool new room? (I can't imagine why you wouldn't want to. What else is the Internet for but peeking into other people's dull lives?)

my new workstation. hmm. let's compare.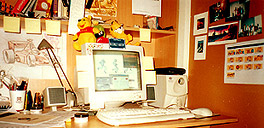 my old workstation. which one do you think is more conducive to productivity?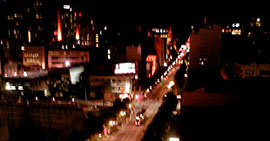 view from my bedroom. it's all happening down there.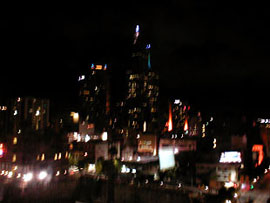 more bedroom view!

heehee. couldn't help myself. just had to show off this Powderfinger poster.
Okay, enough peeking already. (I don't know why you're so curious anyway. I assure you, nothing fabulous ever goes on in my bedroom. Voyeurs.)
Anyway, have somehow finished my 3000-word advertising seminar paper, which simply goes on to prove miracles do happen. Even two days before due date.
So right now I'm quite free not to use my brain. Weeeeeeeeee!! Weeeekend!!!
In rebellious feats of denial during the writing of my seminar paper, I have also written a bit of a guest-writing thing (not sure why I can't bring myself to just simply use the word 'article'. Such a pretentious word. Which makes me an even more pretentious person for not wanting to use it. Somehow. If you get my logic.) for a good friend's (who's more famous than I am) website. So don't make me force you.
Also, if you look through her pages carefully enough, you might find a picture of me!!! So those who've been waiting breathlessly, be breathless no more!!! Go!!! Look!!!How much more fun could this possibly be???!!!