dido in melbourne
(oct 15, 2001)
In the spirit of totally ditching whatever academic obligations we have and just go have some expensive senseless fun and enjoy a weekend in denial of the impending exam season in the last week of uni for this semester (as if I haven't been doing all of the above all semester, not just during the last week of uni), me and my friend spent about 70 dollars each to go see Dido in concert. My friend didn't even like Dido (but she has now changed her opinion after the concert). I dragged her into going since I went to 'teman' her to the Bon Jovi concert earlier this year and we agreed that she's going to 'teman' me to another concert of my choice later. So Oct 13th was the time to make good on that promise.
Got to the venue a bit later than we planned but still got to be among the ones at the front of the queue. After standing outside for one hour we were finally let in. Waited a bit before we were let to the standing area. When they opened the area I was pretty shocked that other people simply dashed for the stage. Torn between wanting to look cool and nonchalant or get the best value my 70 dollars can get, we dashed for the stage too. My hesitation costed us the first row. Ah well, second row ain't really too bad.
The opening act was a bit too new-agey for us to comprehend and was a bit of a letdown. But after having waited outside The Forum for one hour and waited another half an hour inside the building just studying the funny details on the naked statues abundant in the auditorium, 45 minutes with people actually singing on the stage didn't feel too horrible. Patience is a virtue.
But all that was about to be so worth it.
Finally after all that waiting and twisting our ankles to avoid leg cramps, the great performer herself came on stage. She was pretty punctual, too, a rare trait when it comes to concerts. The crowd simply roared like mad.
Dido sang all of the songs from No Angel and some of her cool new songs. Too bad she's only had one album out so the gig was actually pretty short, just around an hour. But anyway, it was a pretty damn good hour.
I managed to snap some photos between singing along out of tune and screaming like mad. Wanted to take more but I didn't think we were supposed to. A guy in front of me got warned not to take any more photos so I had to be pretty subtle with my crap photo-taking skills.
By the way I wouldn't want to blind Miss D with my camera flash.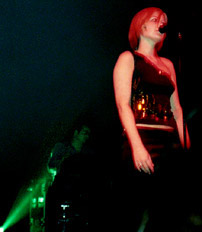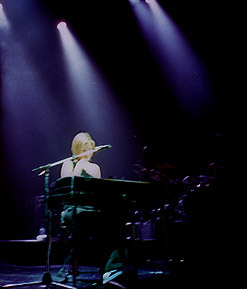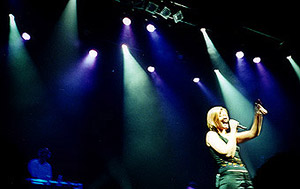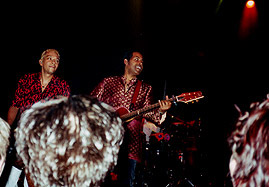 listening to:
- what do you think???!!!